Colorado Stained Glass for Over 40 Years!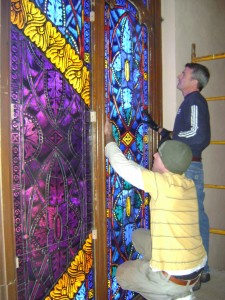 Founded in 1973, Creative Stained Glass Studio, Ltd. is a fully accredited Studio Member of the Stained Glass Association of America based in Denver, Colorado. The SGAA has been the premier stained glass industry organization since it's establishment in 1903. All members are accepted through a juried process with significant requirements.
Creative Stained Glass Studio has produced many hundreds of the highest quality Colorado stained glass windows for churches in addition to public, commercial and private stained glass window and art commissions. The majority of these have been regional installations throughout the Denver area, with several national and international projects also completed.
In addition to stained and leaded glass, in-house glass techniques include dalle de verre, sandblasting and sandcarving, beveling, and fusing. Other techniques utilized in house include gold leaf, fine woodworking, and welding.
Who Will We Create Religious Stained Glass for?
Anybody! Creative Stained Glass Studio has and will collaborate with any and all denominations to create the highest quality windows according to the beliefs and values of who we are working with. Our process is not fixed, meaning we're never just "going through the motions" of a project. We are always working directly with our clients to understand what designs will work best in their specific community and place of worship.
First Religious Stained Glass, Now Public Art
While religious stained glass windows will always be our primary focus, in the past few years we at Creative Stained Glass Studio have been using our knowledge of stained glass to emerge into the world of public art. We understand that in the right light, stained glass can drop jaws, move minds, and touch hearts. In our minds, it would be a tragedy NOT to share such a powerful effect with as many people as possible, whether they're sitting on a pew or a bench in a park. Check out our Public Art Gallery and our Blog for more information on our public artwork.