Here is an excerpt from Evergreen, Colorado's Canyon Courier published on October 1st. To see the full article, click here.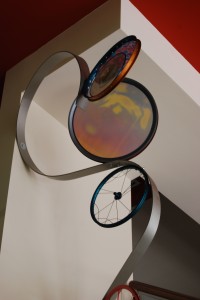 "It's definitely not traditional stained glass, and it's really not traditional public art, either.
Instead, it's a long roller-coaster-like ribbon of steel with attached bicycle wheels that are filled with stained glass. The 16-foot sculpture is the creation of Creative Stained Glass Studio, and it will be on its way to Kennesaw, Ga., to be installed in the atrium at AMLI Residential.
Evergreen residents Matt Durbin, Michael Shields and Keeley Musgrave collaborate on the sculptures — both traditional and nontraditional — that can be found throughout Colorado and in several states.
The 16-foot sculpture was hanging outside Durbin's house on Evergreen Heights Drive last week as the trio put the finishing touches on it, and neighbors stopped by to ask what it was.
Currently, they are working on a more traditional stained-glass project: refurbishing the 50-year-old stained-glass windows at St. Joseph Hospital in Denver.
The 16-foot sculpture is similar to the tallest sculpture the three recently created called "The Trail," which is 90 feet tall and traverses a 5-story stairwell at the Kaiser Permanente Lone Tree medical offices."